Sabae city (Fukui prefecture, Japan) start 2017 fisical year with 58 new business plans!
"平成29年度当初予算の概要 – めがねのまちさばえ 鯖江市"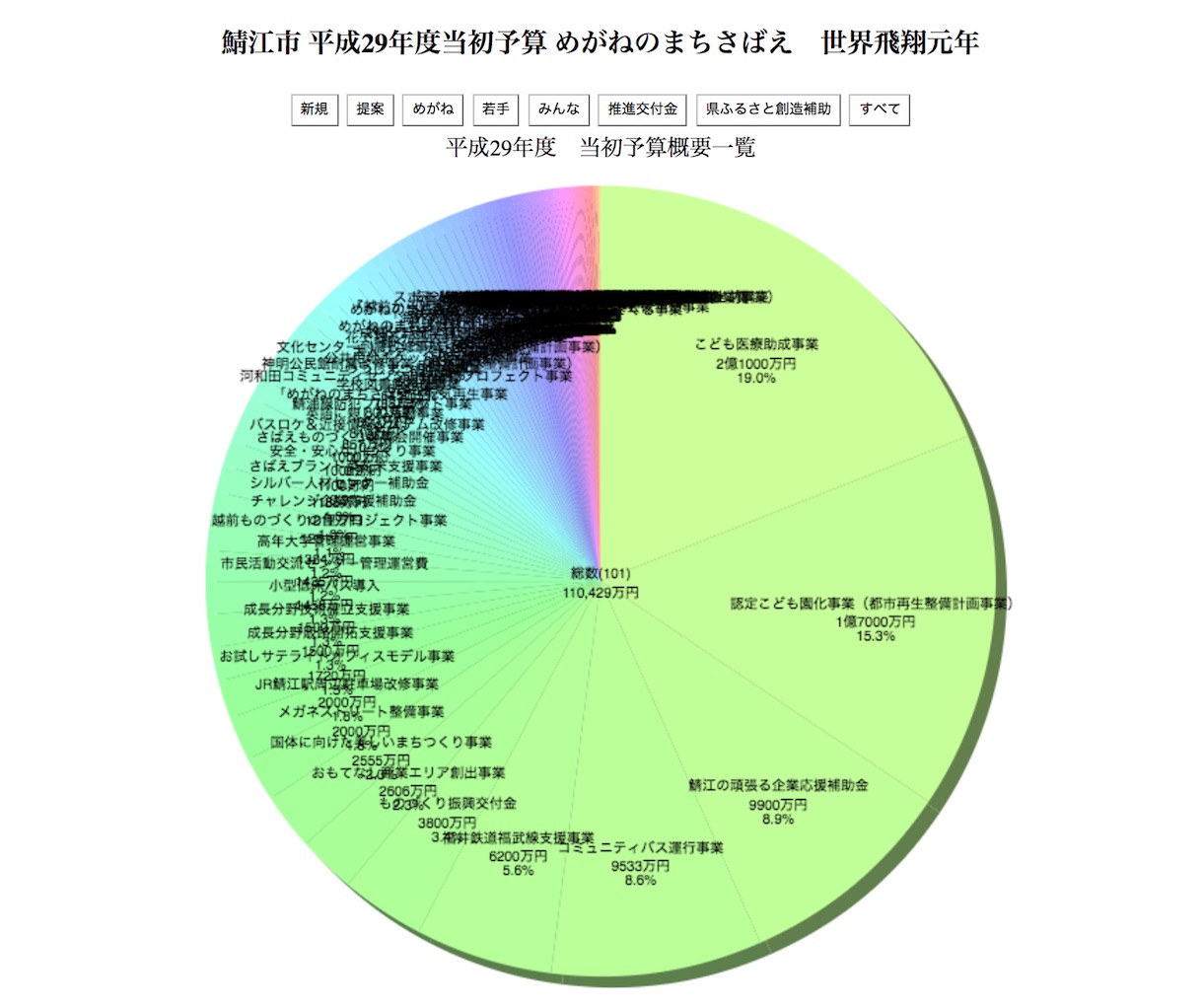 "Sabae Businesses and Budgets / 鯖江市 平成29年度当初予算(主な事業) めがねのまちさばえ 世界飛翔元年"
(using CSV opendata)
I picked up some interesting plans.
- 英語に親しむ活動事業 810万円 (enjoy English)
- 鯖浦線防犯プロジェクト事業 800万円
- 公共用地ポケットパーク整備事業 600万円
- 大人ファーストさばえ眼鏡 600万円
- めがねのまちさばえから日本の未来が見えてくる事業 300万円
- ググれるまちサバエ事業 200万円 (googleability)
- プログラミング教育推進事業 182万円 (programming)
- 鯖江市役所JK課オリジナルメガネSOUZOU 100万円
- 若者による地域活性化推進事業 80万円
- サバエ×ワカモノ夢創造大学事業 80万円
- アジア建築学生国際サマーワークショップ支援事業費 80万円
- クリエイティブ教育都市事業 70万円 (creative education)
- DPDPドローンパイロット養成事業 70万円 (drone pilot)
- 「新しい公共」起業家支援事業 65万円 (Startup Intelligence in Sabae!?)
- サバヌシ総会事業(仮称) 35万円
- 国立情報学研究所との相互連携事業 30万円
- アプリコンテスト開催事業 20万円 (App contest)
- ご当地マンホールPR事業 4万円
主な事業合計 101事業 11億429万円
How about you?
Enjoy living your city!
links
- 平成29年度当初予算の概要 – めがねのまちさばえ 鯖江市
- 若者だもの・ 福野あおい 鯖江市議 — 鯖江市が京セラドームをジャックします
- 実感できるオープンガバメントへ | OpenGovLab